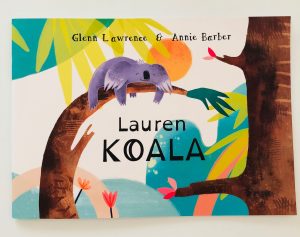 In the last few months we've read some fantastic self-published books and 'Lauren Koala' (which was recommended to us by one of our Facebook followers) is one of our faves.
The story is about a little koala called Lauren who loves to make people feel better by giving them a hug. All of the animals in the jungle know that if they feel sad Lauren will be there to comfort them. As a result, it's a happy, joyful place filled with love.
One day, Lauren Koala hears about a rhino who is very sad because his mummy died when he was little. Determined to help, she sets off on a long journey to find him, cuddling lots of other animals along the way. 
This is a beautifully illustrated story which touches on lots of important themes. Lauren's kindness shines throughout, teaching your child that it's cool to be kind. There's also a really strong sense of diversity and inclusion. Lauren gives her love and cuddles to those who need it, regardless of who they are or where they come from. Whether it's an elephant, a worker ant or a stinky frog in a bog – if they need a hug then they get a hug, and the world they live in is a better place as a result.
The latter part of the story deals with loss in a very gentle way so it would definitely be helpful to a child who has lost someone dear to them – but this (to me, anyway) isn't the crux of the book. You could choose to use it in this way, or not. The enduring message is that a little kindness goes a long way and that a small act of generosity can make a big difference to someone's life.
The gorgeous illustrations need a special mention as they set off the story perfectly. Ivy loves to point out all of the animals she can recognise, and she learned a few new ones too!
Buy it now: https://www.amberandolive.com/product/lauren-koala