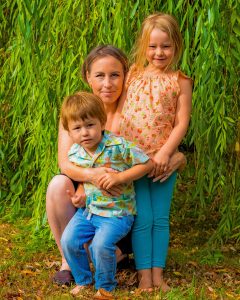 Hi Laura! Tell us a little bit about yourself and your family
I'm Laura, I live in Buckinghamshire with my husband Simon and two children. Posey (nearly 5) and Gilbert (just 3) and two rather grumpy old cats Burliose and Toulose.  I own a small business making children's clothing – The Whistlebrook Clothing Company
What are your children's favourite books?
Posey is reading the 'You Choose' books a lot at the moment, especially at bedtime. She loves picking out characters and using her imagination. We just got the 'You Choose in Space' book and we love it, the illustrations are so detailed.
Bertie is little and is a bit late to the party with his speech, so we are still working through the 'That's not my' books. He is also obsessed with a Thomas the Tank Engine counting book which is always the last one before the lights go out!
Which book do you most like reading to them and why?
Springtime Stories by Enid Blyton. Its an oldie, but I picked up a copy to read with Posey. The stories are all very short, no more than a few pages long which means they hold her attention. Its been great reading them to her – each has a message or theme, usually about not being naughty or not listening!
What was your favourite book when you were a child?
I have two which I hope is allowed! The Faraway tree by Enid Blyton and The Worst Witch by Jill Murphy
Who is your favourite children's author?
I love Lucy Cousins. The Maisy books were the first to really engage Posey. The illustrations are colourful and simple, and the stories are relatable from an early age right up to going to school. They were also very helpful in preparing her for different situations, going to the dentist, doctor, going on an airplane or up to London.
Do you have a favourite children's bookshop? 
Sadly we don't have any small independent bookshops locally. I do find myself wandering in to Waterstones a fair bit though, I can spend ages looking at the beautiful books. These days, buying books online can be very convenient but there is something very cathartic about flipping through the pages being able to take your time to choose the right ones.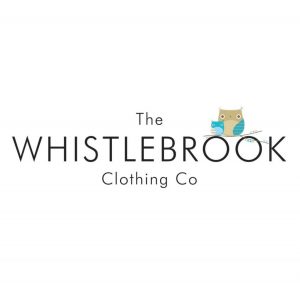 About The WhistleBrook Clothing Company
I knew I didn't want to head back to a corporate office after having the children, life as a project manager pre kids was very stressful, and my husband is away most weeks with work. Sewing has always been a passion of mine, so it's been great to combine something I love doing with an income and the flexibility to work around the children's schedules.
One of the frustrations I found after having my daughter, and having quite traditional taste for her when she was little, was that there were only a few shops that offered the clothes I liked … I didn't want to dress her in pink frills all the time, and often I would see 3 other kids wearing the same things. So, I decided to start making her clothes. I loved that she was unique! Now I make limited amounts of the clothes at Whistlebrook. I love sourcing custom prints and quality fabrics to make a range that kids, and mums, love. x
You can see our clothing range at www.whistlebrookclothing.co.uk
Follow us on Instagram  @whistlebrook1 or Facebook @whistlebrook