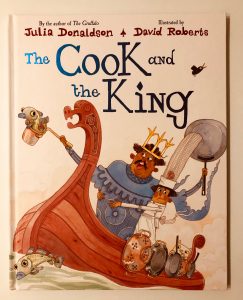 At the start of this lovely book the King is sat at his royal table eating takeaway pizza from a box. He needs a new cook and he needs one now. There's a problem though – he's really, really fussy! He auditions lots of impressive chefs but none of the meals they create for him is quite right. Then in walks Wobbly Bob – a self-confessed wimp who really wants the job!
The King agrees to give Bob a trial and sets him to work making fish and chips, but Bob is scared of every single step of the process. He's scared of catching fish. He's scared of digging for potatoes. He's scared of slicing up chips. And he's very scared of using the frying pan on the cooker. Fortunately the brave King is there to help and every time Bob is nervous about a task he steps in and shows him it's okay.
By the end of the tale, the King has created a lovely meal (which finally lives up to his standards!) which he shares with his new friend Wobbly Bob.
I love the theme of friendship and teamwork which runs through this story. Bob and the King work together to create something great and they both learn valuable lessons along the way. The king discovers he is a lot more capable than he realised and Bob learns that not everything is to be feared.
David Roberts illustrations are fantastic and we love all the details. Most pages feature a little tiny mouse and a cat and Ivy loves to spot them and tell me what they are doing!
Buy it now: https://amzn.to/2QLTpbv