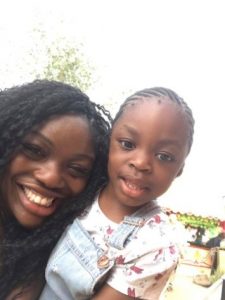 Hi Kemi! Tell us a little bit about yourself and your family
We are a family of 4, my husband and I and a 4 year old darling girl and a 6 months old ravenous boy – he loves his milk! The adjustment from 1 child to 2 children was certainly a shock to my system! I am Kemi, a children's therapist and an emotional well-being coach. We live in Barnet and absolutely love it here.
What are your children's favourite books?
The first book that sprung to mind when I saw this question was 'So Much' by Trish Cooke. 'So Much' is a lovely story about mum and baby waiting for dad's arrival and whilst they wait different members of their family arrive and engage with the baby in various funny and loving ways. Then there is a surprise at the end. This book was a firm favourite with my daughter from about 7 months until 2.5 years old, I can recite the story off by heart. 
Then we loved 'Monkey Puzzle' by Julia Donaldson for a while. 'Monkey Puzzle' is a story of a little monkey who lost his mum and attempts to find her with the help of a butterfly. My daughter loves how the monkey gradually gets cross each time the butterfly wrongly identifies his mum.
She is now 4 she is really into traditional tales like 'Three Little Pigs' and 'Goldilocks and the Three Bears'. She enjoys these because she is so familiar with them she can enjoy a bit of role reversal and read it to me. Reading the traditional tales is a really fun and interactive experience for us as we can both take it in turns to fill in the story and be different characters.
Which book do you most like reading to them and why?
This is a tough one because I am torn between 3. We are such book lovers in our home, so it is hard to choose one.  I love the message and sentimentality of  'The Velveteen Rabbit' by Margery Williams which is basically about a toy rabbit who becomes 'real' because he is loved.  I love the fearsomeness in 'Molly Rogers, Pirate Girl' by Cornelia Funke. I love exposing my daughter to stories with different characters, including strong female characters and I love that Molly Rogers is a confident and brave little girl facing up to adversity (pirates who kidnap her). Finally 'Superworm' by Julia Donaldson is an all time favourite in our home. My daughter likes the voice of the wizard that I use and I always point out to her the importance of team work when reading this story and we say the mini-beasts made a good plan, so now she is obsessed with making a good plan.
What was your favourite book when you were a child?
I really enjoyed the Enid Blyton books; I think that was the beginning of my book worm journey. I remember having such a sense of pride when I could read and finish my own chapter books. What stands out from me from those stories is how well Enid Blyton describes the characters and the food! I could actually really picture the food as I read and I would then ask my mum to cook some random dish from Enid Blyton books.
What do you look for when shopping for new books for your children?
I look for books that are different from the norm, that expose her to different characters, cultures, and experiences. I like books that encourage being a different type of girl, not just a damsel in distress type character. Finally, I do always try and buy books that have black characters in them so my daughter can see herself reflected in the books.
What would you like to see more of in kids' books today?
This is an easy one for me, more diversity across the board. Different cultures, different people, different disabilities and different types of families and so much more.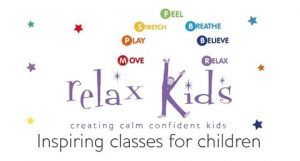 About Relax Kids
I am Kemi, a BACP registered therapist and emotional well being coach.  I believe in the importance of nurturing good mental health in our children and young people to ensure they are happy successful individuals. I run Relax Kids classes and workshops in schools in Barnet and offer therapeutic support to children and families. Relax Kids uses a 7 steps system to teach children about relaxation and mindfulness through: movement, games, stretching, breathing exercises, peer massage, affirmations and visualisations.
Website: www.relaxkidslondonwithkemi.com
Facebook: https://www.facebook.com/relaxkidslondon
Instagram: https://www.instagram.com/relaxkidslondon