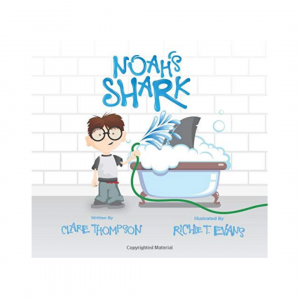 It's 'Show and Tell' time at school and little Noah is very excited. He's brought in his new pet to show the class and he can't wait to see their reaction. When his turn arrives all of the children shriek as Noah's pet turns out to be a shark called Mark! Mark the shark is very friendly but he's certainly not welcome in the classroom!
Noah soon discovers that having a pet shark is actually quite troublesome. It causes problems on the bus, in the garden, in the park and especially at the local swimming pool!
That night Noah's dad sits him down for a chat. He explains that, although they all love Mark, they just can't keep him as a pet because it's not the right environment for a shark. They take him to the local aquarium where he feels right at home, and Noah scores himself a lifetime pass so that he can come and visit him anytime he likes.
But the big question is… what will Noah's next pet be?
Ivy really enjoys this little book. She loves the fact the shark is called Mark and the fact that he looks really friendly despite having very big teeth!
If your little one is currently asking for a pet then this story is perfect. It shows how difficult they can be to look after and how different animals need different environments and conditions in order to thrive.
Buy it now: https://amzn.to/2HQu0gm