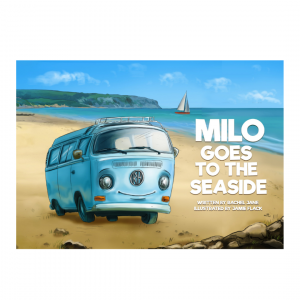 Milo the Campervan lives at Red Hatch Farm with Farmer G and a whole little family of other campers. He loves adventure and likes nothing better than going on a long drive – but somehow Milo has never been to the seaside! He's tried to go many times, but somehow always ends up getting lost.
Luckily a little bird called Billy is on hand to help. He guides Milo along the country roads until finally they reach the sea. The little Camper can't believe his eyes. He loves everything about the seaside, from the smell of fish and chips to the way the waves break on the shore. He even joins in with a game of beach volleyball!
As he watches the sun go down he reflects on his beautiful day, but the sea air gets the better of him and he drifts off to sleep. When he wakes the water is starting to rise around his tyres. Can he free himself and find his way back to the farm after dark?
This is a lovely little rhyming, adventure story with a plucky little hero. Ivy is a big fan of his smiley little face!
Reading the book you get the sense that the author genuinely loves Milo, which totally makes sense because he is in fact a real Campervan and Red Hatch Farm is real too!
You can hire Milo (or one of his friends) for your own seaside adventure via www.redhatchcampers.co.uk. I know. Genius, right?
Buy it now: https://www.redhatchcampers.co.uk/story-books
Disclosure: The author provided us with a copy of this book in exchange for an honest review