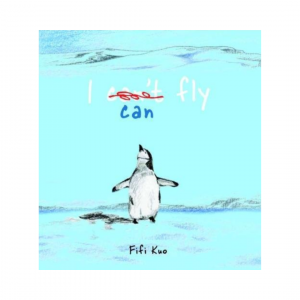 I had the pleasure of meeting Fifi Kuo at a recent event – the 2019 shortlist announcement for the prestigious Klaus Flugge Prize. Her beautiful book made it on to the list and, despite being very much in demand, she took the time to chat and also to compose a little drawing for Ivy on the inside cover of our copy!
The touching story is about a Little Penguin who really wants to fly. He flips and flaps his tiny wings but nothing ever happens. His dad explains to him that it's just not possible – penguins simply cannot fly – but Little Penguin is convinced that if he just tries hard enough he can make it happen.
An over-enthusiastic leap in to the air results in him tumbling in to the sea. Is it possible that there, under the murky depths, he might finally take flight?
This a lovely tale about the power of perseverance. Ivy gets so excited when we reach the final pages because you really go on a journey with the main character! As a parent I also like the notion that sometimes you have to think differently in order to achieve your dreams.
The illustrations are stunning and unlike any I've seen in a picture book to date. The crayon-like texture makes the pictures seem both childlike and sophisticated, which means they draw in both reader and listener. The first thing Ivy wanted to do after reading was get her crayons out and draw some penguins too!
Buy it now: https://amzn.to/2VH2qo2