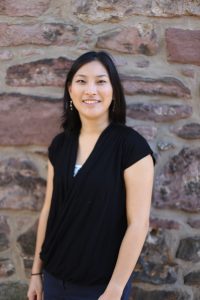 Tell us a little bit about yourself and your family
Hello! I'm Sara – I have 2 kids – aged 4 and 7, and I'm the founder of Happity.co.uk. We live in Forest Hill, SE London.
Happity is a startup helping parents to find and book local baby & toddler classes. I originally built the site myself after being made redundant and retraining as a web developer. I raised angel funding to grow the team and these days I run the business working flexibly from home, serving around 1,000 class providers and some 150,000 parents.
Reading has a big role in our family life. Bedtime stories happen every night without fail, for about half an hour with each child. The worst punishment for naughty behaviour in our house, would be to lose a bedtime story!
What are your children's favourite books?
My son loves any book that makes him giggle. His current favourite is The Book with No Pictures by BJ Novak. He likes to give it to different people to hear how they read it and make them say silly things. Grandma uttering the words 'My only friend in the whole wide world is a hippo named Boo-Boo Butt' caused so much mayhem in our house. I think it's wonderful that a book can create these physical memories and experiences that will stay with them for years.
My daughter's love of reading independently has really flourished over the last year. She's obsessed with anything by Jacqueline Wilson, and loves the Harry Potter series after getting the set for her 7th birthday. She sped through the first three and has read them repeatedly ever since. I haven't given her the later more mature books yet and have had to hide them away because I caught her sneaking them out! It's really captured her imagination and she's riveted by all the drama and suspense. I've keep finding myself yelling at her to stop reading so that she can eat breakfast / put her shoes on / go to bed!!
Which book do you most like reading to them?
I'm really soppy so if I'm asked to choose a bedtime story, I go for sentimental ones that give me an excuse for extra cuddles and kisses! My favourites are 'No Matter What' by Debi Gliori, and 'The Biggest Kiss' by Joanna Walsh. Both of them have a lovely rhythm and poetic sensibility to them, and a message of love for the kids before they close their eyes for sleep.
What would you like to see more of in kids' books today?
It's a great time for children's books with a lot more diversity and thoughtful messages in modern books. Having had a girl first, we do have a lot of books with empowering messages and strong female characters – but with my youngest being a boy, I'd really like to see more diversity in the stories and role models for him too. My husband was one of the first people to take Shared Parental Leave (we qualified for the new legislation in 2015 by just 4 days!), and I truly believe that the missing piece in the campaign for equality, is getting equality for men in parenthood and roles traditionally seen as female.
Do you have a favourite children's bookshop?
I'm incredibly lucky to live near two amazing independent children's bookshops! Moon Lane Books and Smallprint books. Both of them have the most beautiful selections, really knowledgeable friendly staff and they do a lot for the local community. Smallprint has a particular focus on interesting design and artwork that adults and kids will both enjoy, so I find it's particularly good for special gifts.
Moon Lane is a CIC dedicated to raising diversity in books – both in representation, and in publishing. They stock a great variety of stories, so just browsing the shop makes you feel like you're broadening your horizons! I especially like that I can feel confident about not accidentally buying something that has an inappropriate outdated message – a problem that I've definitely experienced with my daughter and Fairy Tale compilations!
About Happity
Happity is an ethically run tech startup helping parents to find and book local baby & toddler classes. We're on a mission to help new parents escape the four walls and connect with others in their community. We do it working flexibly from home and supporting other parents who are building businesses around their families. In everything we do, we aim to create the kind of world we hope our children will live in – one that values people over profits and collaboration over competition.
Find us and follow us: