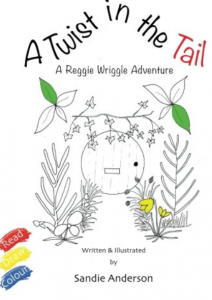 I am quite excited that we seem to have reached a point with Ivy where she's ready for slightly longer books. We're definitely nowhere near chapter book territory yet, but she is starting to show an interest in stories with more complicated plots than standard picture books. However, if i'm honest, I've struggled to find books which bridge this gap.
We have recently been reading this series of tales about a worm-like creature called Reggie Wriggle and I've found them really useful for this stage of reading. They are quite wordy (in a good way!) but also toddler-friendly as you can colour them in.
In this first Reggie Wriggle adventure, Reggie finds himself a little under the weather. He wakes up one morning and can't stretch his tail and then he starts to develop some uncomfortable lumps and bumps. His best friend Bert soon arrives with a diagnosis. Reggie isn't getting enough vitamins so he needs to eat more fruit! Together they set off in search of an apple tree, but before long they find themselves slap bang in the middle of an adventure. Can they rescue local farmer Mr Glossop from sinking in to a giant muddy puddle, and will poor Reggie ever get his fruit?
This is a lovely story which feels like it will grow with your child. Younger kids will enjoy colouring in the pictures of Reggie and Bert, whilst older children will benefit from the longer story length and exposure to new, descriptive vocabulary.
Buy it now: https://amzn.to/2ZbMtIr
Disclosure: The author provided us with a copy of this book in exchange for an honest review.