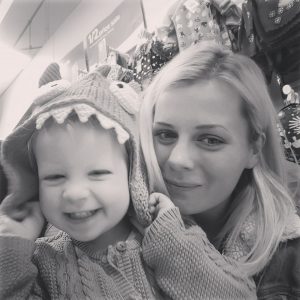 Tell us a little bit about yourself and your family
I'm Lily. We live in Bristol and I split my time between being a freelance sportswear designer and being a mama to my daughter aged 4 and my son who is now 19 months.
What are your children's favourite books? 
Cillian, my youngest, is obsessed with the 'That's Not My' series from Usborne books. When I say obsessed, his 2nd word was book! He has numerous versions and carts them around the house demanding that we read them to him. I didn't use them with my daughter but they're really brilliant, firstly with just getting him to recognise books at a super young age, but then as he progressed he could turn the chunky pages and now we use them to help him identify body parts as many of the pages are on noses, eyes etc. They've set him up for a fall though as he's now super disappointed in any book that doesn't feature a textured page!
Which book do you most like reading to them?
One of my favourites is a library discovery called Llama Llama Red Pajama by Anna Dewdney. It's a modern book that features a harassed mother who's trying to make a phone call and I love the easy rhyming. Plus if you put the title into YouTube you can find Ludacris rapping the story which makes my children giggle in the car!
Who is your favourite children's author?
I love so many this was a really tough question! I certainly have a soft spot for Oliver Jeffers but can you beat the classics? Enid Blyton? AA Milne? Eurg! I can't possibly chose just one!
What do you look for when shopping for a new book for your child?
We pick up a lot of books second hand which is always interesting. For Cillian its all about activities, so texture, flaps, moving parts. Stevie loves books that spark her interests.
Do you have a favourite children's bookshop? 
The charity shops! 100s of books at amazing prices from all kinds of places. Books should be accessible and I want children to understand the fun of books. Stevie knows she must never rip a book but for Cillian its all a learning process. Buying used books means that I'm not fretting if they get a bump or pull and there is always something new to discover. You can't beat your local library either! We spend a lot of time there!
About The Sportswear Designer
The Sportswear Designer was created by designer Lily Rice.   With 10 years international design, production and brand experience Lily is an accomplished, award-winning designer who has worked on both bespoke collections and mass-market consumer wear at sportswear's highest levels. Lily has dressed world champions, Olympians and every day gym goers alike.
https://www.thesportsweardesigner.com
Instagram: www.instagram.com/thesportsweardesigner
Facebook: www.facebook.com/thesportsweardesigner