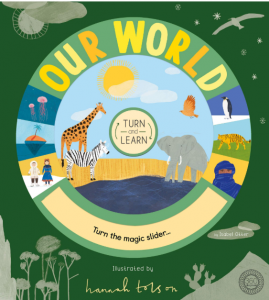 Technically this book is a little old for Ivy – the publisher recommendation is 6 to 8 years  – but she's had so much fun with it this week that it really doesn't matter!
Our World by Isabel Otter and Hannah Tolson is a fantastic book of facts with an interesting interactive twist. It takes five different habitats – desert, rainforest, polar, savannah and sea – and teaches you about the flora, fauna, animal life and indigenous people.
Despite the slightly older age bracket, Ivy has shown lots of interest in what the book has to say. Her favourite section is about the arctic and antarctic and she has learned that penguins and polar bears actually live on opposite sides of the world (something i'm ashamed to say I didn't realise until I was in my twenties!)
The twist comes from the fantastic 'turn and learn' feature which allows you to pull on a ribbon to transform the main picture in to something new. For example the Amazon rainforest in Brazil becomes the Sumatran rainforest in Indonesia, and the weather in the desert switches from sunny to sandstorm.
It's a great resource for primary age children but the addition of the interactive element means that it appeals to younger kids too, allowing them to soak up some knowledge whilst transforming the pictures.
Buy it now: https://amzn.to/2IXcc23
Also available – Turn and Learn: Weather
Disclosure: the publisher provided us with a copy of this book in exchange for an honest review