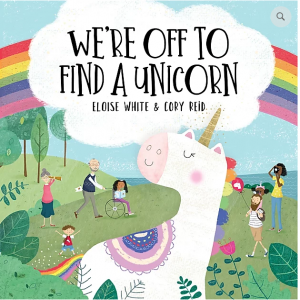 When a multicultural family set off on an adventure to find a unicorn they don't expect it to be too hard. After all – a unicorn has a shiny horn, a colourful, swishy tail and it sparkles and glistens all over. Surely they'll spot one straight away!
As they search a variety of different habitats they spot things which *might* be a unicorn but each one turns out to be a magnificent endangered animal. The creatures they meet include a chameleon, a pangolin, a rhino, a polar bear and a bush baby. But will they ever find a unicorn?
Following in the tradition of books like 'We're Going On a Bear Hunt', this story instantly felt familiar to Ivy which meant she was really engaged from the very first read. She also loved the fact that she could spot a unicorn on every page but the family in the story managed to just miss him every time.
The colourful illustrations are super cute and as a parent I liked the fact it opened up a discussion about endangered animals, which is a topic we haven't touched on before.
Buy it now: https://www.owletpress.com/product-page/we-re-off-to-find-a-unicorn
Disclosure: The publisher provided us with a copy of this book in exchange for an honest review