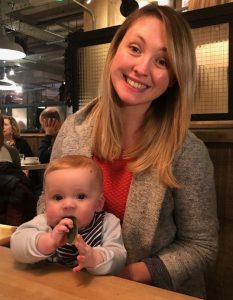 Tell us a little bit about yourself and your family
Hi there, I'm Carys Worsdale. Originally from Aberystwyth in West Wales but now living in Hertfordshire with my family. I have a 2-year-old son, William, and an 8-year-old step son, Jacob. So the house is a loud and messy most of the time!
My background is in museum and galleries, but after having my son I retrained as a Hypnobirthing teacher.
What is your youngest son's favourite book?
William was 2 in July so we have finally moved away from the "That's not my…" books – hurrah!! At the moment he loves Judith Kerr's The Tiger Who Came To Tea. Or as he calls it "Rahhh book". We even say "goodbye, goodbye, goodbye" every bed time just like the book.
Which book do you most like reading to him>
I equally love Kerr's "Rahhh book" – and Mog. I love the way she writes, they're so iconic and so different! With The Tiger Who Came To Tea – who knows if there is a hidden meaning from her past, I hope so!
What was your favourite book when you were a child?
The first book I remember reading alone and therefor sticks in my head is Charlotte's Web. Because of that I had a childhood obsession with pigs! I love her kindness towards the animals.
Who is your favourite children's author?
Of course, it has to be Roald Dahl – what a genius hey! Those books will never ever be out of fashion, I love his imagination. I can't wait to read them to my son when he's a little older. (sorry if that answer is a cliché!)
Who is your favourite illustrator?
So so many! I used to work for Illustration department of Cardiff School of Art and Design and saw so many amazing works by students and staff. I will always love Quentin Blake because of nostalgia and my love for Roald Dahl but love Delphine Renon from the Quiet Crocodile books. Her work is fantastic. I find something new in those animal characters every time we read it.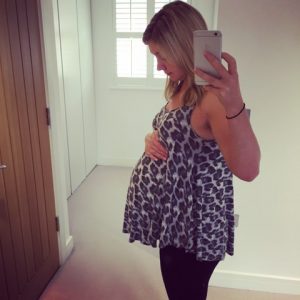 About Carys Worsdale BA, DipHb (KGH)
Carys is a KGHypnobirthing Teacher & Founder of Be Kind Hypnobirthing.
Since becoming a parent and having such an empowering birth, I have become obsessed with the power of hypnobirthing and felt the overwhelming need to share my experience and knowledge to help as many parents as possible!
So I qualified as a Hypnobirthing teacher in 2018, trained by KGHypnobirthing the original UK Hypnobirthing company which is Royal College of Midwives accredited. In 2019 I became a yesmum® birth project affiliate teacher. I teach the yesmum® birth project syllabus, designed by renowned hypnobirthing practitioner, Hollie de Cruz.
Be Kind Hypnobirthing is a full antenatal training programme that helps you give birth more gently, with more confidence and in greater comfort. Hypnobirthing gives you the knowledge and the tools to have the best birth for you. We help you release fear and learn to trust your body, your instinct, and your baby.
I am based in Harpenden, Hertfordshire but also work with clients across the Aberystwyth area of West Wales and Internationally online.
I am passionate about helping as many parents as possible and offer flexible and affordable course options. I believe that crucial birth education such as hypnobirthing should not be seen as an expensive luxury but should be available to all!
Instagram: @be_kind_hypnobirthing
Facebook: @bekindhypnobirthing