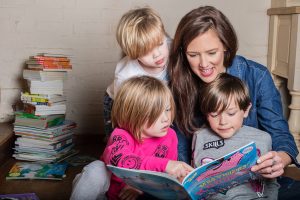 Tell us a little bit about yourself and your family
I'm Amanda and I live in Leicestershire with my husband and three boys, ages 4, 6 and 8. I run independent online bookstore Books & Pieces which specialises in brilliant value books and gifts for 0-6 year olds.
I've always been a big fan of books, and I love to read in my spare time, so I'm really delighted to be sharing my love of books and helping other families find books and activities to enjoy together through my online store and community.
And I love that my boys share my passion for books and reading – it's something nursery workers and teachers have always commented on right from being babies, and I hope they continue to love books just as much into adulthood.