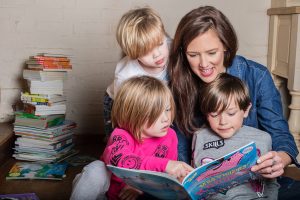 Tell us a little bit about yourself and your family
I'm Amanda and I live in Leicestershire with my husband and three boys, ages 4, 6 and 8. I run independent online bookstore Books & Pieces which specialises in brilliant value books and gifts for 0-6 year olds.
I've always been a big fan of books, and I love to read in my spare time, so I'm really delighted to be sharing my love of books and helping other families find books and activities to enjoy together through my online store and community.
And I love that my boys share my passion for books and reading – it's something nursery workers and teachers have always commented on right from being babies, and I hope they continue to love books just as much into adulthood.
What is your children's favourite book?
It's so hard to choose a favourite, and the boys' books of choice tend to change as much as the weather, but one book they all really enjoy is Yuval Zommer's Big Book of Beasts.
My boys love a non-fiction book and they love a spotting book, and this brings those two things together.
One of my favourite memories of sharing this book is when the boys acted out the different animals. It inevitably ended in a fight, but we were in fits of giggles as the boys pretended to be the different animals, acting as they were described in the book!   
And as an aside, I have a bit of a book crush on Yuval Zommer – I'm in love with his illustrations and think his books are AMAZING!
Which book do you most like reading to them?
One of my favourite books of all time is Cave Baby by Julia Donaldson and Emily Gravett. I'm a huge fan of Julia Donaldson, and this story introduced me to Emily's amazing illustrations.
In the story, Cave Baby is bored and has no one to play with, and when he tries to entertain himself by painting on the wall his parents tell him off! Having been warned about the big brown bear, Cave Baby gets a fright when one night he's grabbed from his cot and taken out into the darkness. Where is the mammoth taking him? Will he get fed to the bear? And who are the creatures he sees on the way?
This book is particularly special to me and our family because each time we've had a new baby we've pretended our baby is Cave Baby. My boys all still love the story, and we really enjoy spotting the bears hidden in each of the illustrations on Cave Baby's journey to the mammoth's home.
Whether you have a little baby in your home or not, it's a lovely book to read, with a fabulous rhyme and loads of opportunities to do silly voices and change the tempo. And the illustrations are so unusual for a Julia Donaldson collaboration.
What was your favourite book when you were a child?
One of my early favourites was a book called The Inquisitive Calf – a photo book about a calf exploring the farmyard – but my overall childhood favourite has the be The BFG; I even tried to get away with reading it in my secondary school English Lit class!! And I've got fond memories of the Brambly Hedge series; I still have the copies on my bookshelves!
Who is your favourite children's author?
It's so boring of me to say, but it has to be Julia Donaldson. The lady is a book-writing legend! Not only are (most of!) her books wonderful to read out loud, but she's introduced me to some fabulous new illustrator / authors too (Emily Gravett and Rebecca Cobb are two examples).
Her books are so engaging, and I love that they've sparked so many offshoots like theatre productions, animations, exhibitions, and woodland trails which really bring the books to life for so many young children (and their parents too, ahem!).
What do you look for when shopping for a new book for your children?
I like to seek out books that will appeal to the boys' interests, or cover topics they can relate to in the own lives. And I love books that are a little bit different too.

It's so important for books to have kerb appeal – if a book screams to me from the shelves I'll pick it up. But I make sure I read it from front to back before I take it home, as there's really nothing worse than having to read a story you don't like again and again…and again!

About Books & Pieces
Books & Pieces is an independent online bookstore for 0-6 year olds. Browse the shelves for a wide range of parent-approved books for children at discount prices, plus character toys and gifts, personalised books, and the Storybook Subscription – a brilliant value monthly children's book subscription.
www.instagram.com/books_pieces