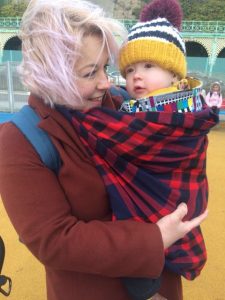 Hi Claudine! Tell us a little bit about yourself and your family
I am Claudine. I am originally from Luxembourg and am now living in SE London with my partner Mike, our nearly two year old son Leonard and our black and white cat Sprite. When Leonard was 4 months old I started making baby clothes for him, as I couldn't find things colourful enough in shops. As people commented on them everywhere we went, I took this as an opportunity to start Snuffles & Spud, a unisex super colourful baby clothing brand.
What is your son's favourite book?
At the moment it has to be 'The Queen's Hat' by Steve Antony. It is a very simple story of the Queen's hat being swished away by the wind and it flying over various London landmarks before it lands on Baby George's head. He also loves 'Shark in the Park', because he gets to shout out when the shark appears.