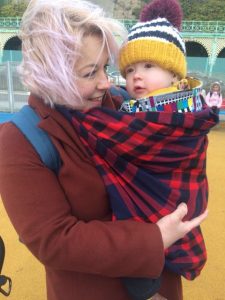 Hi Claudine! Tell us a little bit about yourself and your family
I am Claudine. I am originally from Luxembourg and am now living in SE London with my partner Mike, our nearly two year old son Leonard and our black and white cat Sprite. When Leonard was 4 months old I started making baby clothes for him, as I couldn't find things colourful enough in shops. As people commented on them everywhere we went, I took this as an opportunity to start Snuffles & Spud, a unisex super colourful baby clothing brand.
What is your son's favourite book?
At the moment it has to be 'The Queen's Hat' by Steve Antony. It is a very simple story of the Queen's hat being swished away by the wind and it flying over various London landmarks before it lands on Baby George's head. He also loves 'Shark in the Park', because he gets to shout out when the shark appears.
Which book do you most like reading to them and why?
I love reading the Dr Seuss collection, mainly 'Green Eggs and Ham' and 'Oh The Places You'll Go'. 'Green Eggs and Ham' reads so well. It flows throughout the whole story and you can make your voice a bit louder and angrier each time he insists that he REALLY doesn't like green eggs and ham. 'Oh The Places You'll Go' just makes me nearly cry every time I read it. I just cannot imagine my little boy of two years old going off into the big wide world one day, but I know that day will come.
Who is your favourite illustrator?
It has to be both Chris Riddell and Brian Froud. I was always drawn to the mystical world of fairies and leprechauns and loved copying their style of giving these little creatures character and mischief.
What do you look for when shopping for a new book for your child?
At Leonard's age I am mainly looking for rhyming books, as they are nice to read for me and they are a good start with phonics.
What would you like to see more of in kids' books today?
Probably the most overused response to this question, but there are still not enough, so I will say it again: Strong female characters. Some books do have strong brave women, but then they still have a prince turn up at the end to make them fulfilled.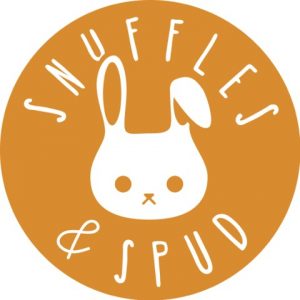 About Snuffles & Spud
We are Snuffles & Spud, an idea that started from making clothes for my little newborn (aka Spud) in March 2017, because I just couldn't find the right clothes for him in shops.
I wanted bold and I wanted bright and I wanted things that didn't define genders. From day one people asked me where the things Spud wore were from, which implied to me that there was definitely a need for more colourful clothes on the market. So I dusted off my serger and sewing machine and the journey started officially in May that year.
View our collection: www.snufflesandspud.co.uk
Facebook: https://www.facebook.com/snufflesandspud/
Instagram: https://www.instagram.com/snufflesandspud/