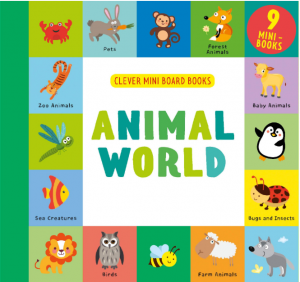 When we received this in the post we thought initially thought it was a chunky hardback, but upon opening it we found a lovely surprise. It actually contains nine mini board books, each dedicated to different types of animals.
Each tiny book contains 5 double page spreads, featuring a gorgeous illustration of an animal along with its name. This makes them perfect for babies and younger toddlers who are just starting to recognise different creatures.
But this set isn't just for reading. The books are shaped like cubes so they're great for stacking and sorting. If you turn them upside down they become puzzle pieces which when ordered correctly display a larger animal scene. You can also play a matching game when placing them back in the box because the cover images are repeated inside.