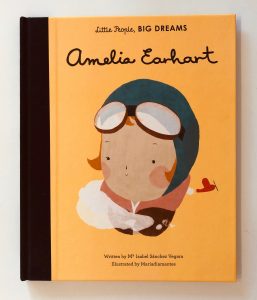 We're big fans of the Little People Big Dreams series and this one about Amelia Earhart is currently getting a lot of attention from Ivy.
The story begins with Amelia as a small child who is fascinated by the thought of flying. She dreams of flapping her wings and taking to the skies. As she gets older she visits air shows and her passion for flight grows and grows. As soon as she is able to sit in a plane she knows that this is where her destiny lies and she sets out to make it happen.
After a lot of hard work she becomes the first woman to fly up to 14,000 feet and later becomes the first woman to fly across the Atlantic. As the story ends we see her take on the ultimate challenge – to fly right the way around the world.