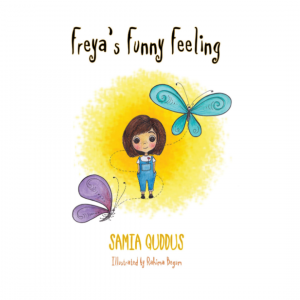 I spotted this one on Instagram a little while ago and was drawn in by the beautiful illustration of the little girl on the cover. Intrigued, I bought a copy and i'm so glad I did!
Little Freya is very excited about the fact she's becoming a big girl, but she soon discovers that growing up means dealing with new emotions and feelings. Normally bouncy and confident, she starts to experience an odd wibble in her tummy which she doesn't understand. She describes it as 'tangly, twirly and topply' and it makes her a little bit anxious. What on earth is it and how can she make it go away?
She stops eating twirly spaghetti in case that's causing the problem. She tries spinning in circles and singing really loudly to try and chase the sensation away. Nothing works however so she decides to speak to her mum and dad. They explain that what she is experiencing is butterflies in tummy which flutter around when she is feeling nervous or worried. She is surprised to discover that her parents also get butterflies when they are faced with new things!