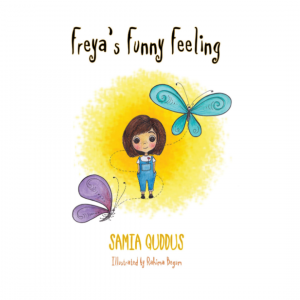 I spotted this one on Instagram a little while ago and was drawn in by the beautiful illustration of the little girl on the cover. Intrigued, I bought a copy and i'm so glad I did!
Little Freya is very excited about the fact she's becoming a big girl, but she soon discovers that growing up means dealing with new emotions and feelings. Normally bouncy and confident, she starts to experience an odd wibble in her tummy which she doesn't understand. She describes it as 'tangly, twirly and topply' and it makes her a little bit anxious. What on earth is it and how can she make it go away?
She stops eating twirly spaghetti in case that's causing the problem. She tries spinning in circles and singing really loudly to try and chase the sensation away. Nothing works however so she decides to speak to her mum and dad. They explain that what she is experiencing is butterflies in tummy which flutter around when she is feeling nervous or worried. She is surprised to discover that her parents also get butterflies when they are faced with new things!
Freya learns that it's perfectly normal to experience butterflies and she discovers that she can keep them in check by imagining them doing funny things like swinging on spider webs and bouncing on bubbles. These images make her laugh and chase the butterflies away!
This is a gorgeous book, which does a fantastic job of explaining that uncomfortable nervous feeling in a toddler-friendly way.  Ivy grasped the concept straight away and it sparked a really lovely conversation about what the butterflies might look like when you feel angry, sad or scared.
When buying the book there's an option to add some butterfly hair clips to your purchase and i've found that (as well as being really pretty!) they have been a great learning tool to use alongside the book.
Buy it now: https://www.freyasfunnyfeeling.com/shop