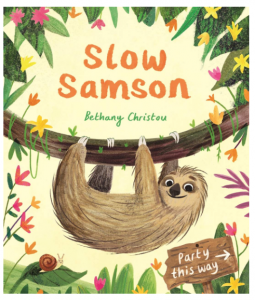 Everybody loves Samson. He is a kind and considerate sloth who is always available for a chat or to give a helping hand. As a result he has many friends and gets lots of exciting party invitations. There's only one problem – Samson is very, very slow.
On party days he always leaves home on time, but his slow movements and his kindly nature mean he is always late. In fact, he usually arrives after the party has ended which always makes him very sad.
His friends love him dearly and recognise that Samson is never late through any fault of his own. He just can't move fast enough, and if he sees someone in need along the way he simply has to stop and help because that's his nature.