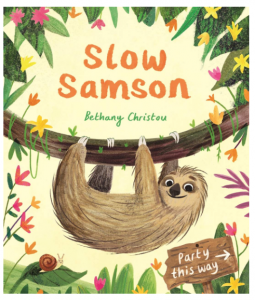 Everybody loves Samson. He is a kind and considerate sloth who is always available for a chat or to give a helping hand. As a result he has many friends and gets lots of exciting party invitations. There's only one problem – Samson is very, very slow.
On party days he always leaves home on time, but his slow movements and his kindly nature mean he is always late. In fact, he usually arrives after the party has ended which always makes him very sad.
His friends love him dearly and recognise that Samson is never late through any fault of his own. He just can't move fast enough, and if he sees someone in need along the way he simply has to stop and help because that's his nature.
Together they hatch a plan to make sure Samson gets the party he deserves – but can he get there on time?
This is a beautiful story about kindness, empathy and understanding. The illustrations are warm and welcoming and there is a lovely sense of anticipation as the story builds up to the big party. Ivy always cheers when she sees Samson wearing a party hat, tucking in to a big slice of cake!
Buy from Bookshop.org and support independent bookshops: https://uk.bookshop.org/a/155/9781783708703
Buy from Amazon UK: https://amzn.to/2HPhUlm
Note these are affiliate links and Ivy's Library will receive a small commission if you choose to purchase through them.