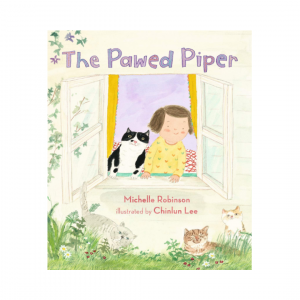 The little girl in this story really, really likes cats. She has lots of books about them but what she wants is a little fluffy cat of her very own – so she decides to lay a trail!
She gathers together an arsenal of cat toys, including balls of wool, skeins of ribbon and little jingly jangly balls. Then she visits her Grandmother and learns that they also enjoy playing with catnip, cardboard boxes and newspapers.
Soon her bedroom is full of exciting things designed to entice cats and she sits and waits for them to arrive. She waits all day but she has no luck so she heads to bed and sadly snuggles her cat book instead.