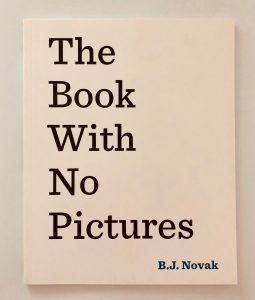 This book was recommended to me multiple times before I bought it and I have to admit I was sceptical. I genuinely didn't think that Ivy would be able to sit through (let alone enjoy) a book without any pictures. I was very, very wrong!
I don't want to give too much away as I think that would spoil it a little, but the basic premise is that the person reading the book has to read every single word out loud, whether they want to or not. So be prepared to say some very silly things and to put your voice acting abilities to good use!
Ivy loves this book and we both giggle from start to finish. It's one of those books that she can't get enough of so as soon as we get to the last page she directs me straight back to the beginning so we can start again and the voices and sounds get more and more ridiculous each time!
Really clever and highly recommended – it's unlike anything I've seen on the market before.  The suggested reading age for this one is 3-6 but we've been laughing at it since Ivy was about two and a half.
Buy from Bookshop.org and support independent bookshops: https://uk.bookshop.org/a/155/9780141361796
Buy from Amazon UK: https://amzn.to/2vIrTmT
Note these are affiliate links and Ivy's Library will receive a small commission if you choose to purchase through them.