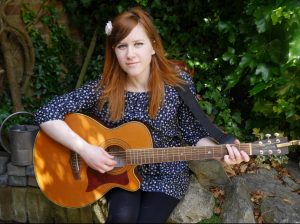 Tell us a little bit about yourself and your family
My name is Marisa and I'm a musician. I graduated university with BA degrees in Sociology and Spanish and an MSc in Development Studies. I've worked at various charities over the years, but switched gears career-wise after becoming a mum so I could work more flexibly. I am American (and now also British) and have been living in London for the last 11 years, now with my husband and our 3-year-old daughter. During this time, I have been in a London-based folk rock band called "The Common Earth" as singer/songwriter/guitarist and then singer in an acoustic duo called "Acoustically Tuned," which played cover songs at events.
What is your daughter's favourite book?
My daughter's current favourite book is "Click, Clack, Moo: Cows That Type" by Doreen Cronin. It's about cows that go on strike after the mean Farmer Brown denies them electric blankets to stay warm in their barn. My daughter loves it because it has familiar farm animals and a great repetitive line, "Click, clack, moo. Click, clack, moo. Clickety clack moo!" She enjoys acting it out by pretending to type on a typewriter (something which I would be surprised if she saw anywhere other than in a museum one day!)
Which book do you most like reading to her?
I love reading my daughter the book "A Is for Activist" by Innosanto Nagara. It's a book that explores social justice and human rights activism through the letters of the alphabet. For example, "A is for Activist. Advocate. Abolitionist. Ally. Actively Answering A call to Action. Are you An Activist?" I'm hoping it will give her a foundation for social justice and activism and teach her small actions she can do to help others. It provides children with the message that we are all linked through our desire to connect with other people and find commonalities.
What was your favourite book when you were a child?
One of my favourite books as a child was "Angelina Ballerina" by Katharine Holabird. I loved her books so much that I actually wrote to her when I was young and became penpals with her for a few years. More recently, I wrote to her again and was invited for tea at her house in London. That was a childhood dream come true!
Who is your favourite children's author?
My favourite children's author has got to be Julia Donaldson. I know it's probably a bit cliché, but she creates such imaginative characters and concepts in her books. I also love the clever rhymes, which make them fun to read out loud.
Who is your favourite illustrator?
I'd have to say Helen Craig, who illustrated the "Angelina" books for Katharine Holabird. Her representations of the characters helped bring the stories to life. Her style is classic and wonderfully detailed.

About Young Folkies
I'm founder and owner of "Young Folkies," live, musical entertainment for babies and toddlers. I perform folky renditions of nursery rhymes and original children's songs with puppets and instruments. I hold weekly sessions in North East London for babies and toddlers 0-5 years old, teach guitar to children 5-10 years old and perform at birthday parties. Shortly, I will be releasing my first album of original children's songs and favourite nursery rhymes!
Follow me on Facebook, Instagram and Twitter
Watch me on YouTube