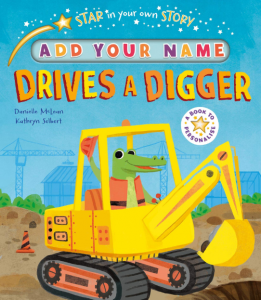 When I was a kid it really bugged me that I could never, ever find anything with my name on. For years I secretly coveted a tacky china mug or a fake leather key chain with 'Shelley' proudly emblazoned on it, but unfortunately it was never meant to be. The idea of an actual book featuring my name would have totally blown my mind, so I was delighted to discover this new series from Little Tiger. Each title comes with a set of alphabet stickers which allow you to personalise the story and become the star of your own story!
There are a number of books in this new series but this one is Ivy's favourite. It places you front and centre at a busy building site where you are in charge of a shiny yellow digger. You need to gouge out the earth and dig a deep hole, but your progress is hampered when you hit a mysterious object with a loud clang! Can you recover it and find out exactly what it is?
When a book has 'novelty value' then I sometimes find that the story itself can suffer but this is definitely not the case here. It's an engaging read (with lots of fun sound effects) and the illustrations are really appealing.
There are lots of stickers included so you should be able to spell out even the most unusual of names, and they're detachable and reusable so you can get creative! I definitely didn't remove Ivy's name when she went to bed then temporarily add my own to see what it would look like. Definitely not. Nope. Not me!
It's worth noting that, as this book comes with small stickers, it's marked as not suitable for the under threes.
Buy it now: https://amzn.to/2ML8Bqp
Disclosure: The publisher provided us with a copy of this book in exchange for an honest review.