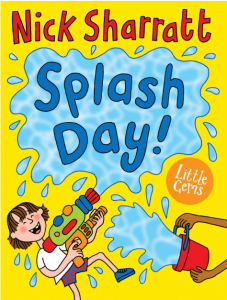 Class One have worked really hard all year so the teachers have decided to reward them with a special treat – a Splash Day! When the children arrive, dressed in swimsuits, trunks and wet suits, the school playground looks very different to usual. There are buckets, sand trays, crates and washing up bowls everywhere, and each one is filled to the brim with water.
Anticipation rises when the teachers appear. Taking no chances they are armed with rain coats, shower caps and wellies! Mrs Thistle lays down a few ground rules before she blows her whistle and then the children are off. They splish, splash, splosh and spray until the whistle sounds again.
But just as they are reaching for their towels, Mrs Rose appears with a hose. She wouldn't, would she?
Ivy LOVES this story and calls it her 'Big Girl Book' about splashing. It features Nick Sharratt's trademark illustrations and wit but in a different format to a regular picture book. It's smaller and runs to 59 pages so it feels a little bit more grown up, even though there's only one line per page. The bouncy rhyme means it can be a quick read if you need it to be, but at the same time there's lots of detail to pore over in the illustrations if you want to take your time.
I'd definitely recommend this for bookworms aged 3 and over, especially if they're going through that 'big girl/boy' phase!
Buy it now: https://amzn.to/2Ndbily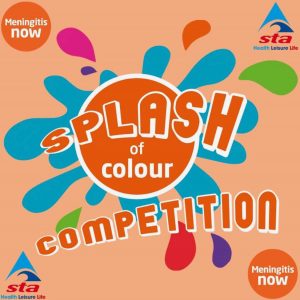 'Splash Day' is currently part of  the fantastic 'Splash Now' campaign being run by Meningitis Now to raise awareness of the signs and symptoms of Meningitis – especially the fact that you shouldn't wait for a rash to appear before seeking medical attention.
As part of the campaign, Nick Sharratt has donated a signed copy of the book and a signed digital print as first prize for a very exciting competition called Splash of Colour. You can find details on how to enter here: http://www.prenderlandbooks.co.uk/splashofcolour
Taking part is easy and the competition closes on October 18th. Get involved!
Disclosure: We were gifted a copy of this book by Prenderland Books as part of the competition campaign.