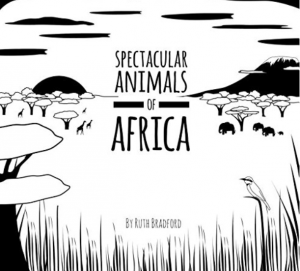 Have you heard of The Little Black & White Book Project? Run by mum Ruth Bradford, it's an award-winning small business which creates beautifully designed black and white board books for babies.
A newborn baby's sight is a little blurry and their field of vision is only 6-8 inches. They cannot distinguish between shapes or colours but research has shown that the stark contrast in black and white images helps stimulate their vision. If you've ever worn a black and white Breton top around a baby you'll know that they just can't stop staring. Try it and see!
Ruth's books are designed to help with early visual stimulation. Each one focuses on the animals from a different region and our favourite is this one – Spectacular Animals of Africa.
Featuring giraffes, lions, meerkats, rhinos, gorillas, zebras, elephants, gazelles, warthogs, buffalo, ostriches and hippos, this sturdy board book brings to life animals from across Africa. It's perfect but also a great way of teaching toddlers about more exotic animals once they have exhausted the farmyard!
There are 5 books in the series – Africa, Southeast Asia, Australia, Great Britain and the Ocean – and  they also produce fantastic flash cards, alphabet postcards, wall prints and colouring books.
Buy it now: https://blackandwhitebookproject.com/