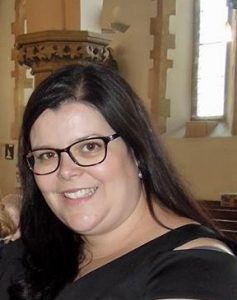 Tell us a little bit about yourself and your family
I'm Sarah, a special needs teacher, living in Bracknell with my husband and our 2 daughter's Clara (5) and Alice (6 months). I grew up in South Africa and came to England looking for a bit of an adventure and the chance to travel. 15 years later it is safe to say that it became more permanent than I had planned!
What are your children's favourite books?
Clara has returned to Julia Donaldson books over and over. As a toddler she loved The Smartest Giant in Town and as a pre-schooler she really enjoyed the Highway Rat, Jack and the Flum Flum Tree and The Troll. Clara loves books and reads new books every week (lots of library visits!) but she has returned to her Julia Donaldson favourites.  I think the rhythm and rhyme in these books is very engaging. She is now taking great pride in reading to her little sister.
Which book do you most like reading to them?
I really like sharing books that are fun with my girls. Can I Join Your Club? by John Kelly (Author) Steph Laberis (Illustrator) has good dose of fun, lovely pictures and is a good conversation starter. My elder daughter loves making the animal noises and I like how the author encourages both being yourself and including others in a fun, light-hearted way which is very age appropriate for younger children. Little Alice looks on in total amazement and giggles when Clara and are doing the voices or noises in silly books.
What was your favourite book when you were a child?
I loved Alice in Wonderland in late primary school, it was a book that just seemed to stand out from everything else. I totally fell in love with it again when I saw the version illustrated by Helen Oxenbury. The modern, relaxed image she created of Alice was both whimsical and relatable, just how I had always wanted Alice to be! I have the book in hardback and look forward to sharing it with my girls.
What do you look for when shopping for a new book for your daughters?
I tend to read the whole picture book and buy based on how the book makes me feel. The feeling elicited from a combination of the illustrations, rhythm and sense of fun. I am strongly led by what I think will appeal to my daughter. I am constantly looking for strong girl characters. I also love a book with an African connection and stop to look at books by local authors whenever I travel back to SA. Wherever I can, I want to give my girls a bit of that super special African style.

About Confident Kids
Confident Kids is a partnership between Amanda, a paediatric occupational therapist, and Sarah, a specialist teacher. They offer training and advice to enable families and professionals through early intervention, guiding and empowering them with a robust toolkit to support their child and the confidence to prepare for entry into school and beyond. In their blog and monthly newsletter they share top tips and tools for supporting early development.