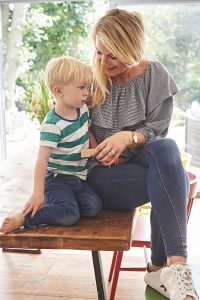 Hi Kat! Tell us a little bit about yourself and your family
Thanks for having me! I'm Kat Brown, mama to two lively but loving boys Louis (6) & Max (3) and wife to Papa Brown. Having enjoyed working in publishing for the last 12 years, I left after having my youngest son and in September I launched Mama Brown & Co. We are the online magazine and marketplace dedicated to making parenting more playful and helping you get more fun out of family life (however tired you might be!) My husband and I originally hail from Yorkshire but moved down to London to work after university and somehow never ended up leaving. We now live just outside London in Kent but often find ourselves back up in Harrogate visiting family and friends and staying in touch with our Northern roots!
What are your sons' favourite books?
My eldest Louis' current favourites are The Christmasaurus & The Winter Witch by Tom Fletcher (yes we are reading it in March!) and Bear Grylls Adventures. He is 6 and in the past year has found a love of chapter books, ever since we read The Famous Five together by Enid Blyton. I read a chapter a night to him at bedtime but he can't wait until his reading is strong enough for him to read them himself!
My youngest Max has been going through a big superhero phase so we've resorted to hiding the Avengers books at the back of the bookshelf so he discovers some new stories at bedtime! More recently we have been loving The Cave by Rob Hodgson and Max The Brave by Ed Vere.
Which book do you most like reading to them?
I love reading rhyming books to them as they read so beautifully. Our favourites are She's Not Good For A Girl, She's Just Good by Suzanne Hemming and the Julia Donaldson titles. I particularly love the way Suzanne has created a wonderfully modern character in Florence that teaches my boys about equality in a really light hearted way.
What was your favourite book when you were a child?
I loved to listen to my Dad read Woodland Stories by Lucy & Eric Kinkaid. He used to do different voices and accents for the different characters! I try and use those memories when I'm reading to the boys at bedtime.
Who is your favourite children's author?
Once I was able to read independently I was a huge Enid Blyton fan as a child, particularly The Faraway Tree and The Enchanted Wood. I love how timeless these stories are and how they would transport you into this magical world of make believe.
Do you have a favourite children's bookshop? 
I love Smallprint. Jenny has created such a beautiful website which brings the joy of a small bookshop online and really takes you inside the stories. Their books captivate through both the tales and the bold, modern illustrations which are right up our street!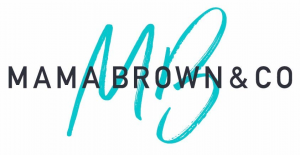 About Mama Brown & Co
Mama Brown & Co is the online marketplace and magazine dedicated to making parenting more playful and family life more fun. We are your permission to get sillier, be creative and have more fun whenever you can fit it in and no matter how tired you have become!
Our store is a celebration of small brands, most of them created by parents just like us… so they get it! You will find a host of innovative products, from arts & crafts, dress up, books and journals to playroom accessories, all designed to inspire your play and help you & your family thrive. Our online magazine then offers tips, hacks, activity ideas and parenting advice from a mix of family experts, play specialists and parents like us managing the juggle. Come on in!
Website: www.mamabrown.co.uk
Instagram: @mamabrownandco
Pinterest: mamabrownco