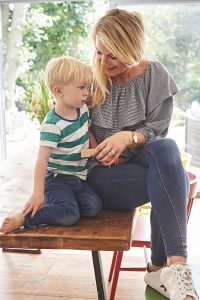 Hi Kat! Tell us a little bit about yourself and your family
Thanks for having me! I'm Kat Brown, mama to two lively but loving boys Louis (6) & Max (3) and wife to Papa Brown. Having enjoyed working in publishing for the last 12 years, I left after having my youngest son and in September I launched Mama Brown & Co. We are the online magazine and marketplace dedicated to making parenting more playful and helping you get more fun out of family life (however tired you might be!) My husband and I originally hail from Yorkshire but moved down to London to work after university and somehow never ended up leaving. We now live just outside London in Kent but often find ourselves back up in Harrogate visiting family and friends and staying in touch with our Northern roots!
What are your sons' favourite books?
My eldest Louis' current favourites are The Christmasaurus & The Winter Witch by Tom Fletcher (yes we are reading it in March!) and Bear Grylls Adventures. He is 6 and in the past year has found a love of chapter books, ever since we read The Famous Five together by Enid Blyton. I read a chapter a night to him at bedtime but he can't wait until his reading is strong enough for him to read them himself!