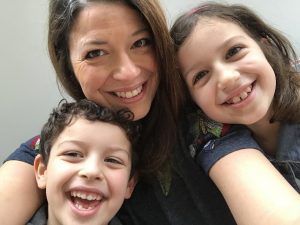 Tell us a little bit about yourself and your family
My name is Marcela, I am a mum of two (Izzy 8, and George 6) and wife of one.  I am an aspiring children's writer and though I have nabbed a great agent, I am yet to have my stories published (here is hoping).
What is your son/daughter's favourite book?
We read a lot at our house, so favourites change all the time.  I asked the kids what their favourites are right now, and this is what they said:
My daughter's is Jake Atlas, by Rob Lloyd Jones: "because it's adventurous".  Jake Atlas is Indiana Jones for kids, inspired by the author's own experiences as an Egyptologist.  His previous books, the 'Wild Boy' series are fantastic (and take place in Victorian London). I was lucky enough to meet Rob, and he is a brilliant story teller in person too – I highly recommend his books.
My son's favourite is 'It Might be an Apple', by Shinsuke Yoshitake "because it gives you lots of ideas of what other things can be".  This is a fantastic picture book that focuses on imagination, discovery and our sense of fun.   The clue is in the title.
Which book do you most like reading to them and why?
I have a few books which I find myself picking up again and again. Most tend to be rhyming stories as I enjoy their rhythm and the way it helps build momentum and fun.  My go-to books are 'Do Not Enter the Monster Zoo' by Amy Sparkes, 'GRRRR' by Rob Biddulph, 'We Found a Hat' by Jon Klassen and 'Monkey Puzzle' by Julia Donaldson.  We also keep coming back to 'Up in the Tree' (Margaret Atwood) and 'Ten Little Penguins' (Fromental and Jolivet), a super fun, beautiful little pop-up book that has survived!
When my children were younger, we used to read 'The Very Busy Spider' by Eric Carle almost every day, and I never got tired of it.  Surely a mark of a great book.
Most of the stories are about friendship, self-discovery and love.
Who is your favourite children's author and why?
There are too many excellent children's writers out there for me to have a favourite, but there are plenty that I can mention!
I was born and raised in Brazil, and so I only came across Dr Seuss as an adult.  But as soon as I did I was completely hooked – I really admire how unafraid he is when it comes to storytelling and illustration.
There are many rules when you write for children, and I was drawn to the way his writing seemed rule free – at least to me.  I also love how he uses language, and although his rhyming and repetition can be hard to read (especially if English is you second language), it makes it infinitely more fun.  Who doesn't love a tongue-twister?
His books are smart and playful, often carrying serious messages without sounding preachy or boring. My favourites are 'And to Think That I Saw It on Mulberry Street', 'Oh the Places You'll Go!' and 'The Sneetches and Other Stories' – I often read them out loud to myself.
I am also a big fan of David McKee's 'Not Now Bernard', 'The Hill and the Rock', 'Two Can Toucan' and 'George's Invisible Watch'.  He too has a unique style, and I always get the feeling he writes for himself first, which I love.
A few years ago, I read 'The Giving Tree' by Shel Silverstein for the first time.  It is pure, and sad, and beautiful and haunting, and though I read it only once to the children, I cherish my copy and find it hugely comforting to own it.  Every household should have one, and while you are at it make sure you have a copy of 'The Velveteen Rabbit' by Margery Williams too (warning: both books will make you think and cry).
Who is your favourite illustrator and why?
Personally, I love Jon Klassen.  He manages to convey emotion, humour and mood with the simplest of drawings.  Others that also stand out are Lesley Barnes, David Litchfield and Rob Biddulph.
What do you look for when shopping for a new book for your child?
Humour! And an honest tone of voice and great story.
I look for picture books that can create conversations afterwards, whether is because of the story or the illustrations.  'Poo Bum' (Stephanie Blake) and 'Hoot Owl' (Sean Taylor) made us laugh out loud!  As did 'The Pigeon Needs a Bath!' (Mo Willems), 'Please Mr Panda' (Steve Antony) and 'Farts Around the World', whilst books like 'The Dark' (Lemony Snicket) and 'Heart in a Bottle' (Oliver Jeffers) open different types of conversations altogether.
Non-fiction books are great for that too.  We like 'Shackleton's Journey' and 'The Wolves of Currumpaw' (William Grill), 'Goodnight Stories for Rebel Girls' (Elena Favilli and Francesca Cavallo), 'Norse Myths' (Kevin Crossley-Holland and Jeffrey Alan Love), 'Pirates Magnified' (David Long and Harry Bloom), 'The Usborne Children's Picture Atlas', 'Look inside Your Body' and 'The Big Book of Big Bugs' (all by Usborne).
For my eldest I also focus on stories with strong female characters.  More recently I have discovered some great graphic novels to add to the mix – 'The Lumberjanes' were a huge success, as were 'Smile', 'Roller Girl' and 'HILDA'. But variety is the key.
Do you have a favourite children's bookshop? What makes them great?
I already work for one of my favourite bookshops in my area – Rye Books.  Alastair chooses his titles exceptionally well and always makes excellent recommendations regardless of who it's for.
Most recently, I visited Smallprint Books in Forest Hill and was really impressed with it too (I did not leave empty handed).  I also like the way Jenny has embraced social media and is not afraid to try different things.  I often listen to her Instagram stories and take her advice when it comes to books. She knows what she's talking about!
I am also keeping a close eye on Moon Lane Ink as I love what they stand for: equality in children's' books, diverse titles, representation and access.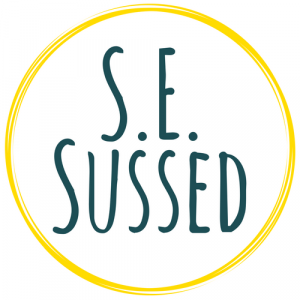 About Marcela Ferreira
I am a local blogger writing under the name of SE Sussed.  I am passionate about the SE London area and try to highlight the best it has to offer.   I am currently blogging about the fantastic entrepreneurs we have on our doorstep, and you can read about them here.
https://medium.com/@SEsussed/meet-some-of-se-londons-entrepreneurs-part-7-2def69f5573d
I also write for The London Mother and have recently been asked to be a guest blogger for The Hatch Enterprise.
You can follow me on twitter @SE_Sussed or Instagram s.e_sussed