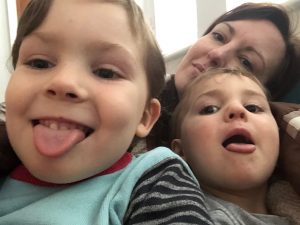 Tell us a little bit about yourself and your family
My name is Camilla. I'm married and have two boys, Freddie & Theo aged 4 ½ & 2 ½ – I live in Uxbridge, near Bucks and I'm a work-at-home-Mum. I have my own baking business, decorating cookies and I supply cakes to local cafes.
What are your sons' favourite books?
My sons have their favourites, 'The Book With No Pictures' by BJ Novak – it's so funny, they love me making silly noises and saying funny words. They also love 'Not Now, Bernard' by David McKee – it's such a short, simple story but they always feel sad for Bernard and I think they wonder what happens to him. My youngest loves Nursery Rhymes, so we sing those a lot, plus the 'That's Not My…' series was fab when they were both younger. They always "read" it themselves and remember the words by feeling the material on each page.