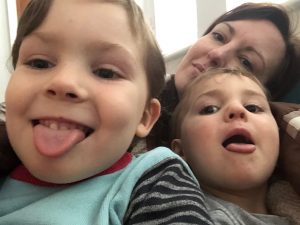 Tell us a little bit about yourself and your family
My name is Camilla. I'm married and have two boys, Freddie & Theo aged 4 ½ & 2 ½ – I live in Uxbridge, near Bucks and I'm a work-at-home-Mum. I have my own baking business, decorating cookies and I supply cakes to local cafes.
What are your sons' favourite books?
My sons have their favourites, 'The Book With No Pictures' by BJ Novak – it's so funny, they love me making silly noises and saying funny words. They also love 'Not Now, Bernard' by David McKee – it's such a short, simple story but they always feel sad for Bernard and I think they wonder what happens to him. My youngest loves Nursery Rhymes, so we sing those a lot, plus the 'That's Not My…' series was fab when they were both younger. They always "read" it themselves and remember the words by feeling the material on each page.
Which book do you most like reading to them and why? 
I love books by Oliver Jeffers, especially 'Lost and Found'. They have such a soothing comfort about them and the illustrations are adorable. I always change 'the boy' to 'Freddie' and 'the penguin' to Mr P., which is my son's favourite stuffed toy. They both look exactly the same! I love they way the stories are always about kindness and love. I also like reading Peppa Pig books – I try to copy the voices as they are in the TV show, and the boys always recognise the stories too. Daddy Pig is the funniest and we love laughing at the end.
What was your favourite book when you were a child?
I was a Roald Dahl fan and read Matilda and The Twits constantly. I also must have read the "Folk Of The Faraway Tree" so much, the pages would barely stay in!
What do you look for when shopping for a new book for your sons?
We love going to the library for books and always look for dinosaurs or books about numbers. Something with a simple cover and a good moral. We read it in the library and if we like it, then we take it home. If we buy books then I leave the decision up to them – goodness knows what they will pick, but it's whatever cover takes their fancy! I think the front cover has a lot to live up to!
What would you like to see more of in kids' books today?
I would love to see less gender stereotyping and colour association (pink & blue). So many books are categorised by either princesses for girls and trucks for boys, for example. My sons definitely like 'boyish' things but they are beginning to be conditioned that ONLY boys can like that type of thing. I'd love to read about girls who race cars, wrestle with dinosaurs and boys who cook fabulously and love doing the gardening. Freddie and Theo love those things!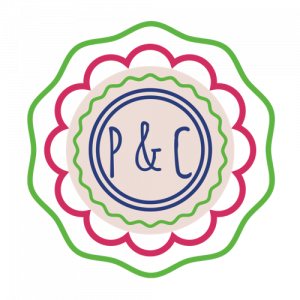 About Pretty & Cookie
I'm Camilla, baker and owner of Pretty & Cookie, the place to come for fabulous, unique custom designed iced cookies. As well as birthdays, weddings and special events, I specialise in creating branded logo cookies for businesses, with the aim to complement your marketing and wow your clients.
Find me at www.prettyandcookie.co.uk
Instagram: @prettyandcookie
Twitter: @prettyandcookie
Facebook: www.facebook.com/prettyandcookie