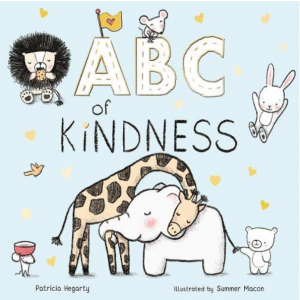 If you're looking for a gift for a new baby, or a sweet bedtime read for a toddler then i'd like to draw your attention to the ABC of Kindness because it is utterly adorable!
The gentle rhyme takes us on a soothing trip through the alphabet, highlighting all the ways we can be kind to each other.  Whether it's F for Forgiveness, P for Patience or U for Understanding, this sturdy little board book is the perfect way to introduce the concept of kindness from a very early age.
The book features a host of loveable animal characters and the illustrations exude warmth and comfort. Ivy's favourite is the little elephant who pops up on multiple pages with a joyful smile on his face.
It's perfect for a baby's nursery, but equally useful for a toddler who is just starting to recognise the alphabet.
Buy from Bookshop.org and support independent bookshops: https://uk.bookshop.org/a/155/9781848579910
Buy from Amazon UK: https://amzn.to/3eAtUqj
Note these are affiliate links and Ivy's Library will receive a small commission if you choose to purchase through them.
Disclosure: The publisher provided us with a copy of this book in exchange for an honest review.