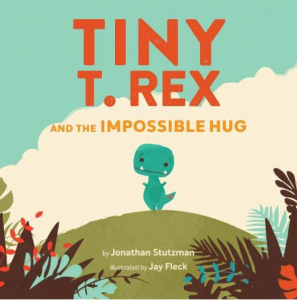 Tiny T. Rex has a big heart but he has very small arms. This isn't usually a problem, until one day Tiny sees that his friend Pointy is feeling sad and needs some cheering up. Tiny knows that the best thing to do is to give his friend a great big hug, but his teensy little arms won't let him!
Determined to find a solution to his hugging problem, Tiny turns to his family for advice. Each of them offers up some wisdom, but nothing seems quite right until he speaks to his brother and sister. They tell him that if he wants to do something which everyone believes is impossible then he needs a plan and he needs to practise, practise, practise. Tiny takes their advice and we're treated to a wonderful montage of him getting fit and attempting to hug all manner of objects (including a flower, an ice cream and cactus!).
Will all of his hard work pay off and result in a lovely cuddle with his friend Pointy?
Everything about this book is utterly adorable. Tiny is a really warm and loveable character and his quirky personality shines through in both the prose and the illustrations. He's also a great role model for small children, teaching the importance of persistence, practise and being a good friend.
Buy from Bookshop.org and support independent bookshops: https://uk.bookshop.org/a/155/9781797208374
Buy from Amazon UK: https://amzn.to/2XaMnlg
Note these are affiliate links and Ivy's Library will receive a small commission if you choose to purchase through them.
Disclosure: The publisher provided us with a copy of this book in exchange for an honest review.