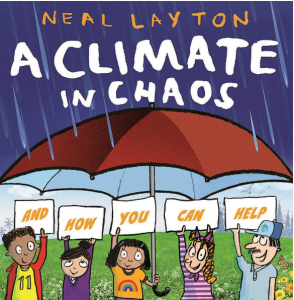 Whilst we were playing in the garden yesterday Ivy noted that there are more animals around than usual, and she's right. Over the last few weeks we've spotted lots of birds, a family of squirrels and even a baby fox venturing in to our little patch of South London. The current situation means that, with fewer cars on the roads and fewer people in the streets, the animals are starting to claim back their territory. And it's wonderful!
I  jumped at the opportunity to have a little chat about how humans have encroached on the natural world and later we grabbed this book off the shelf and explored the subject further. She's only 4 so she's a little young to grasp the enormity of climate change but Neal Layton has done a fantastic job of breaking down the science so that it's easy for childen to understand.
The book walks you through what climate change is, what's causing it and how it affects all life on our planet. Ivy found the impact on animals and their habitats most interesting and wanted to know if we could get bamboo and water delivered to the Giant Pandas and Elephants!
Once it has laid out the facts, the book empowers children to make a difference by listing practical things they can do to help. It also provides a useful glossary of terms and short bios of children who have big ideas about climate change, like Greta Thunberg, Ridhima Pandey and Sahil Doshi.
Aimed at childen aged 5-7, this is a fantastic resource. It doesn't shy away from the seriousness of the issue but handles it in a way which isn't overwhelming for kids. We also love Neal Layton's other title on a related topic – A Planet Full of Plastic.
Buy it now: https://amzn.to/36eEsHL
Disclosure: The publisher provided us with a copy of this book in exchange for an honest review.