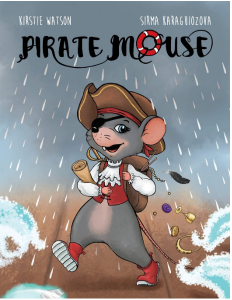 Pirate Mouse is very good at being a pirate, but she's not a huge fan of water. In fact, she hates it so much that she hasn't had a wash in years! Her stinky habits mean that she hasn't got a lot of friends left, so when she discovers an exciting treasure map she is forced to set off alone.
Her adventure leads her to a big ship, but in order to find the treasure she has to face her nemesis – water! To reach her goal she needs to dodge a giant splashy mop, avoid a massive bucket water, hide from the rain and jump over great big puddles.
But when she arrives at the treasure she is met with an unexpected surprise – a puffin wearing a crown, trapped all on his own in a fishing net.
Pirate Mouse was on a journey to find gold and jewels but is she about to discover that the greatest treasue of all is friendship?
Ivy really enjoyed this swashbuckling tale about unexpected friendship, and I like how it teaches kids the power of perseverence.
Buy it now: https://amzn.to/2APLVBt
Disclosure: The author provided us with a copy of this book in exchange for an honest review.