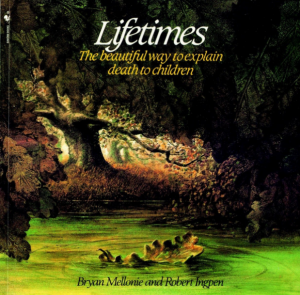 Most picture books about death for small children are fables – simple stories of loss with animal characters learning how to deal with their sadness. These work very well, but if you are looking for something more factual I would recommend 'Lifetimes' by Bryan Mellonie and Robert Ingpen, a work of non-fiction which looks at death as a natural process.
It teaches children that death is a part of life. All living things have a beginning and an end, and in between they live their lifetime. We learn that different animals, plants and trees have different life spans, some long and some short. It gently explains that most creatures live their full life, but sometimes the natural rhythm is disturbed and accident or illness takes them early.
As we move through the pages we focus in on different kinds of animals and how long they live, including birds, butterflies, rabbits and mice. Finally at the end of the book we come to humans.
From start to finish the whole book feels peaceful and I love how it relates everything back to nature. The writing is simple and honest, guaranteed to have a calming effect on those in emotional distress.
This is an important book and it's not just for children who have been or are soon to be bereaved. It's a really useful resource for kids who are just learning about the concept of death and have lots of questions.
I only have one small complaint! The book was published in 1983 so it lists the average human life span as 60-70 years.  I would love to see it reissued with current data.
Buy it now: https://amzn.to/2XsXzJW