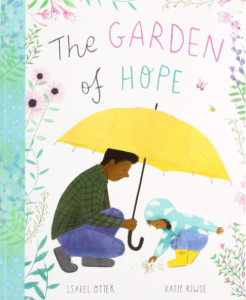 Maya's house feels different without Mum. Her Dad is trying his best but he's a little overwhelmed and the house, the garden and Maya herself are all a little untidy. She's very grateful for her Dad and her dog Pip but sometimes she still feels lonely and anxious. Everything about her life has changed.
But then one day her Dad gathers Maya on to his lap and tells her a story. He explains that her Mum used to feel anxious too but she kept her worries at bay by planting and growing beautiful things in the garden. On the table in front of her Maya sees multiple packets of seeds and smiles.
Maya sets to work. She pulls up the weeds, she untangles the swing and she plants her first seeds in the ground. As she toils she thinks about her Mum but the green space makes her calm and she starts to feel like she has a purpose.
Soon the garden is bursting with life. Beautiful, colourful flowers start to bloom and they attract bees, butterflies, ladybirds and even rabbits. Maya's life still feels strange without her Mum, but the garden has changed things a little. It has given her hope.
This is a simple story with a powerful message and stunning illustrations. No reason is given for the Mum's absence so it's open to interpretation. The book could be used to help children who have suffered a bereavement or a family breakdown. Although the subject matter is sad, ultimately the story is both uplifting and comforting.
Buy from Bookshop.org and support independent bookshops: https://uk.bookshop.org/a/155/9781848578906
Buy from Amazon UK: https://amzn.to/2ZLhTJA
Note these are affiliate links and Ivy's Library will receive a small commission if you choose to purchase through them.
Disclosure: The publisher provided us with a copy of this book in exchange for an honest review.