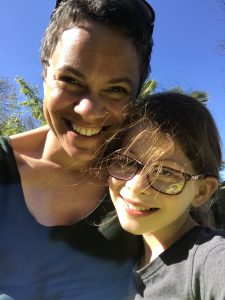 Tell us a little bit about yourself and your family
My name is Michelle.  I am based in South East London and live with my nine year old daughter who goes by her very own business name of Little Wise Junior (she is my Artistic Director too!).  I am also the creator and owner of Little Wise Toys where I have designed and developed a range of screen-free educational and home learning toys for young children aged 3-6 (with a new product for 6-12 year olds focused on emotional development in the pipeline).
As Michelle's daughter is in a slightly older age bracket than the usual focus of this blog series, they're both going to cast their minds back to some of the early books they used to enjoy together in the pre-school years.  Little Wise Junior is going to kick things off…
Little Wise Junior, what are your favourite books?
Goodnight Moon by Margaret Wise Brown – I like this book because it is nice and simple. I like the illustrations. And I like how it rhymes because it flows nicely. It is a nice relaxing book to read just before you go to bed.
The Box by Martha Lightfoot – I like this book because it gives you lots of imaginative powers and shows you how imaginative you can be.
Usborne Lift-the-flap Counting Book – I like this book because it has lots of bright colours, nice illustrations and it is a fun way to learn numbers.
Maisy Big, Maisy Small by Lucy Cousins – I like this book because it tells you lots of different opposites so it helps young kids to learn. I also like it because the illustrations are colourful and nice.
I Like it When by Mary Murphy – I like this book because it is a nice interactive read. You can have lots of fun with this book and you can create a smile on your child's face.
Monkey Puzzle by Julia Donaldson – I like this book because the illustrations are quite clear and it shows kids how you can describe different things. Again, with the rhyming it helps the words to flow nicely.
Michelle, what are your favourite books?
So many books from the pre-school days bring back really lovely memories.  My challenge is going to be narrowing them down!
As a starting point, all of the ones that Little Wise Junior mentions were great books we enjoyed together.  To highlight just a few of them…  The Usborne Lift-the-flap Counting Book is fabulous – both the illustrations and the opportunity for creativity with the different flap activities inside.  We used this book so much and it was a really lovely visual way of exploring early counting from 1-5.  I Like it When is a perfect way to cuddle up just before bed and spend some quality time together.  Maisy Big, Maisy Small was a great way to introduce opposites.
Some others… Up and Down by Oliver Jeffers – a beautiful book with charming and simple illustrations and a lovely story about friendship.  Quentin Blake – so many good books.  One that I particularly enjoyed reading with Little Wise Junior was All Join In.  Crazy characters all interacting together and a delightful verse throughout. The Story of the Little Mole is funny too – after all, it is all about poo!  We used to read a version which has flaps and moveable images.  We also used to love reading The Blue Balloon. It is a lovely story sparking curiosity and imagination as things are not always as they seem. I think this book provides lots of opportunity to read with expression and bring the story alive (all helped also by the various pull out pages).
We have still got all of these books mentioned as I can't bring myself to depart with them. When Little Wise Junior turned around five or so she started getting into longer chapter books – some of the favourites being classics such as Enid Blyton and Roald Dahl.  There are so many more, but I am very aware that I need to stop somewhere.  So, I shall stop here ?
Michelle, what were your favourite books when you were a child?
I remember reading a lot when I was a child, and I loved the trips to the local library.  I didn't really read a lot of the classics and my memory fails me on the titles of the books that I did read (which were often whatever took my fancy when we went to the library each week).  Two book/story related memories from my childhood spring to mind though…  A classic that I did have was the Winnie the Pooh Box Set.  I still have it and it now belongs to Little Wise Junior.  My 83 year old dad even has a Winnie the Pooh book from when he was a little boy.  I also remember dad sometimes making up stories on the spot for my bedtime reading. I used to love those stories.
Do you have a favourite children's bookshop?
I love Moon Lane Ink in Forest Hill, South London.  A really good range of books for children can be found here (and they have an adult book section out the back as well).  Such friendly and helpful staff.  In normal circumstances they also put on a real mix of activities for local families. It is no wonder they are an award winning bookshop.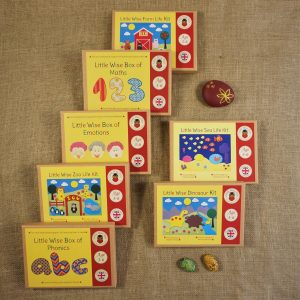 About Little Wise Toys
Little Wise Toys is a small business which specialises in creating educational toys for 3-6 year olds that offer a fun and interactive learning bridge between home and early years settings/early school.  The products cover a range of areas such as phonics, maths, emotions, dinosaurs and more.  I was keen to take things back to basics in many ways as I wanted to design hands on and engaging learning opportunities that involve no screens, yet still offer plenty of opportunities for interaction, exploration and imagination.  In light of the 'screen-free app' concept, each activity box is nice and compact (barely bigger than a book), making them an ideal alternative to use on the move, as well as at home.
Website: https://www.littlewisetoys.com/
Facebook: https://www.facebook.com/LittleWiseToys/
Instagram: https://www.instagram.com/LittleWiseToys