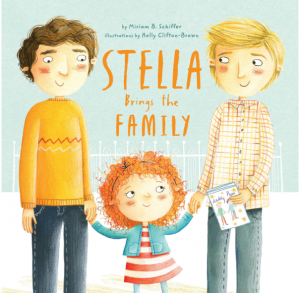 Stella has two dads. This has never been an issue but when her teacher announces they're going to be throwing a special Mother's Day party she finds herself in a bit of a pickle. She doesn't have a mum so who is she supposed to invite?
As the other children play, Stella finds herself worrying about the party. She can't concentrate on anything and she doesn't want to eat. She doesn't know how to explain that she doesn't have a mum to bring to the party.
Eventually her friends ask her what the matter is and she tries to explain. The children are surprised and they have lots of questions. If she doesn't have a mum then who makes her packed lunch? Who reads her a bedtime story? Who gives her kisses when she hurts herself? Stella explains that her two dads do all of these things for her and more. Plus she has Nonna, Aunt Gloria, Uncle Bruno and Cousin Lucy. She has a whole host of people who love her – but she still doesn't have a guest for the Mother's day party.
But then Jonathan has a suggestion. Why doesn't she just bring along her whole family?
This is a tender story about love and acceptance, which teaches children that no two families are the same. The lovely illustrations show a diverse group of children and lots of different types of family unit. It also reminds us to always be mindful that other peoples experiences of life are often different to our own but that this makes them no less valid.
Buy from Bookshop.org and support independent bookshops: https://uk.bookshop.org/a/155/9781452111902
Buy from Amazon UK: https://amzn.to/3fpr3zJ
Note these are affiliate links and Ivy's Library will receive a small commission if you choose to purchase through them.