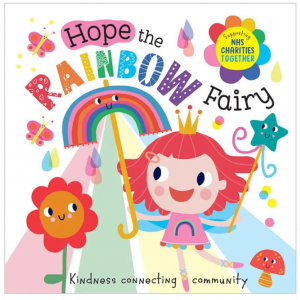 Inspired by the rainbow art which children have been displaying in their windows during the current situation, this story is all about connecting communities with kindness.
Hope is a Rainbow Fairy and it's her job to spread colour and joy around Fairyland. She loves to wave her magic wand and make her fellow fairies smile with bright yellow sunshine and vivid green trees, but then everything changes when Fairy Flu hits and everyone has to stay indoors.
Hope starts to worry that, without her, the land will be colourless and everyone will be sad. In a bid to cheer people up, she tries sending rainbow lollies to her friends in the mail but they melt en route and when she sets up a colourful quiz online the 'Wi-Fly' cuts out. She even tries to magic the Fairy Flu away but her powers just aren't strong enough.
Feeling sad and lonely, Hope sits on the roof of her toadstool and looks out across the greying countryside – and suddenly she gets a wonderful idea. With a wave of her wand she magics up a giant rainbow which can be seen across the land. Inspired by her message of hope, the other fairies set about creating rainbows of their own and soon every house is connected by colour.
Over the last few months we've read lots of stories designed to help childen navigate through this difficult time, but this one has to be our favourite. The rhyme is bright and cheerful and the colourful illustrations are adorable. It manages to hit just the right tone – conveying how children are feeling whilst stuck at home but simultaneously showing how communities have come together to help others and that there is an end in sight. Ivy listened carefully to every word and the ending (when Fairy Flu is over) made her bounce on the sofa with joy!
Buy it now: https://www.hopetherainbowfairy.com/shop/
All profits from the sale of this book will be donated to NHS Charities Together and if you pop over to the Hope the Rainbow Fairy website you can watch the story being read aloud by a number of celebrities, including Alan Carr, Suranne Jones, Johnny Vegas (our favourite!), John Thomson and Anna Friel.
They are also running a fabulous competition which will see one child get the opportunity to feature their very own storytelling video on the website, along with a £100 gift voucher. The competition closes on June 30th and you can find out how to enter here: https://www.hopetherainbowfairy.com/competitions/hope-kids-competition/
Disclosure: The publisher provided us with a copy of this book in exchange for an honest review.