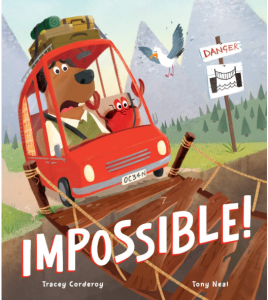 Dog lives a happy but predictable life in a busy city. He runs a laundrette and takes great pride in washing and drying his customers' clothes. He enjoys his days but secretly he dreams about visiting the ocean. He'd love to see the waves lapping on the shore but thinks this is impossible because the sea is so far away. Instead, he lives vicariously through characters in books and whittles small boats which he keeps around his home.
One day he discovers a new brand of washing powder called 'Ocean Magic'. Hes very excited to try it – but the box contains a little more than he bargained for. When he gets the clothes out of the machine they smell like sea and sand but huddled inside them is a very dizzy and confused little crab!
The crab is keen to get back to his home at the beach but how will he get there? Dog thinks the distance is too far to drive. "It's impossible!" he says. Crab explains that things are only impossible when you say they are and suggests that they try.
Soon Dog finds himself transported on a wonderful adventure, visiting mountains, waterfalls, caves and eventually the ocean. Dog never imagined that such wonderful things could happen to him and when they reach their destination he never wants to leave. But staying forever would be impossible. Or would it?
We love this fabulous story which encourages children to face their fears, step out of their comfort zone and follow their dreams. The illustrations are adorable and Ivy particularly loves the page of holidays snaps which Dog and Crab take whilst on their journey.
Buy it now: https://amzn.to/2ZETsvK
Disclosure: The publisher provided us with a copy of this book in exchange for an honest review.