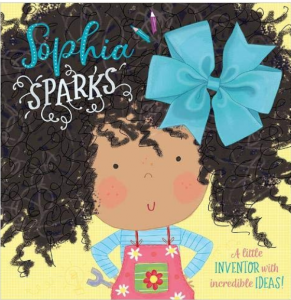 Little Sophia Sparks is a brilliant inventor who creates wonderful things out of items she finds in her home – like rockets and robots and even a house with legs! She wears a bright blue bow in her beautiful curly hair and she's pretty sure that this is the source of her creativity. With the bow in place she comes up with idea after idea.
When her teacher announces to the class that they are going to work together to transform an old bus into something exciting, Sophia is over the moon – until she realises that she has lost her precious blue bow.  As the other children get to work Sophia's tummy starts to churn and her mind goes blank. No bow = no inspiration!
At lunchtime she stares hopelessly in to her mashed potato, but as she looks at the different elements on her plate a thought starts to form. She had noticed that each of her classmates was working on a separate invention for the bus. Surely, if they want to build the best bus on the planet, they need to work together as a team…
The little girl rushes back to the classroom to share her thoughts with her friends and soon the room is buzzing with activity. Is it possible that Sophia's creativity has been inside her all along and she doesn't actually need her bow?
This is a fabulous story which encourages children to believe in themselves and their ideas. Sophia is a great role model and I am a big fan of stories which feature girls engaging in STEM activities.
Ivy loves the sweet illustrations and she was very impressed when the final bus was revealed at the end!
Buy it now: https://amzn.to/3iCbirR
Disclosure: The publisher provided us with a copy of this book in exchange for an honest review.