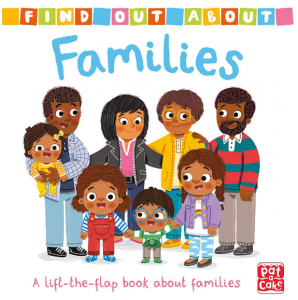 Families come in all shapes and sizes and this little board book from Pat-A-Cake is a great way to introduce this concept to small children.
Each double page spread looks at a different aspect of family life and then introduces you to a child and their individual set up. There is then a question which encourages kids to think about their own family and how it may differ from others.
The book explores family size, different types of homes and environments, leisure activities, special holidays, job roles, celebrations, and family trees. It is very inclusive, with different races and religions represented along with single parents, step-parents, same-sex parents, foster parents and families with grandparents as primary carers. We see children in wheelchairs and children wearing glasses. It also features a parent who is unable to work due to illness, which is not something I have seen in a children's book before.
In addition to the wonderfully detailed illustrations there are lots of flaps for your child to peek under, revealing more details about the children featured.
Ivy's favourite section is at the very back of the book in the form of a little memory game. Your child is asked to remember information they have learned about each of the children's families and then lift a flap to see if they are correct. Which child likes to visit the beach? Which child celebrates Eid? Whose Mum is a doctor? She really enjoys trying to recall all the details, although she has now read it so many times that she has most of the answers memorised!
Buy from Bookshop.org and support independent bookshops: https://uk.bookshop.org/a/155/9781526382528
Buy from Amazon UK: https://amzn.to/30fOaHh
Disclosure: The publisher provided us with a copy of this book in exchange for an honest review.