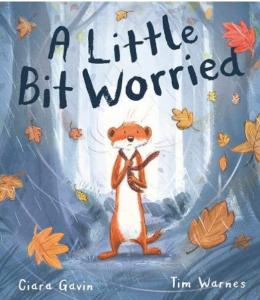 Weasel is a worrier, so when he gets caught in a storm one day his anxiety levels go through the roof. The rain soaks him, the wind blows him over and just when he thinks he can't take anymore the heavens open and it begins to hail. Weasel feels very small in comparison to the big storm so he decides to hide himself away.
He builds himself a little house out of stone and soon he feels a lot safer. As time passes Weasel gets more and more used to being at home by himself so he never ventures outdoors. It's far too scary out there.
But then one day Mole appears and Weasel doesn't know what to do. Mole wants to play hide and seek, drink tea and have fun. He doesn't understand that this is Weasel's fortress which keeps hims safe from the world.
Weasel tries to explain but is shocked to discover that Mole has a very different way of looking at things. When Mole encounters snow he builds a snowman. He relishes the feeling of the wind in his fur and when it rains he jumps in puddles.
Could Weasel's new friend help him see that the world isn't such a scary place after all?
This is the perfect picture book for children who have a tendency to be a little anxious and it's particularly relevant right now, as we all take baby steps in to our 'new normal'. It teaches children that everyone get's worried sometimes, but if you  share your concerns with a friend or family member they will always be able to help you.
We love the warm, autumnal illustrations and Ivy is a big fan of the cheeky little mole!
Buy from Bookshop.org and support independent bookshops: https://uk.bookshop.org/a/155/9781788815697
Buy from Amazon UK: https://amzn.to/3jndsvM
Note these are affiliate links and Ivy's Library will receive a small commission if you choose to purchase through them.
Disclosure: The publisher provided us with a copy of this book in exchange for an honest review.