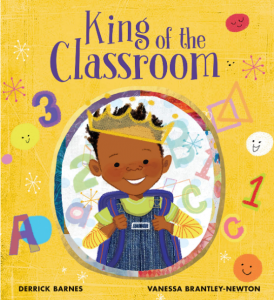 Lots of books about starting school focus on the specific worries which your child might have about their big day. This fabulous book reframes those fears and the result is a story which fizzes with positivity and fun.
On a bright sunny morning a little boy awakens and prepares to start the day. Today is the first day of school and Mummy says he's going to be the King of the Classroom. He brushes his royal teeth, dresses in his special school garments and settles down for a truly majestic breakfast. The school bus will be his carriage and the school itself will be his brand new kingdom.
He introduces himself to the children around him and asks them about their summer. He's brave making new friends in the playground. He's kind to those around him at lunchtime. He listens carefully to his teacher and approaches every new task like the King that he is. He has a truly wonderful day.
It's impossible not to read this book with a smile on your face! The bright colours, smiling faces, reassuring text and general good vibes make it an absolute joy to behold and it's one of our favourites for school starters. It empowers kids to start their school journey with a spring in their step and the confidence to believe that the future is theirs for the taking.
Buy it now: https://amzn.to/39Xq9sT