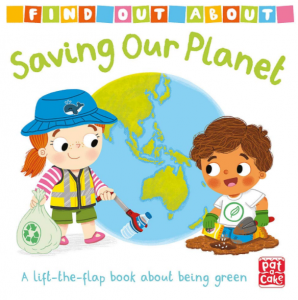 It's never too early to get kids thinking about the little things we can all do which make a difference to our planet. This lift-the-flap board book from Pat-A-Cake is perfectly pitched to teach your little ones the basics of key environmental issues.
Each double page spread tackles one issue and then introduces you to small child who wants to help. We then learn three ways in which they can effect change and see which option they choose. As an example, Harry learns that vehicles pollute the air but he wants to help jeep the air clean. His Mum explains that instead of using the car for their trip to the park they can walk, cycle or scoot. Harry considers each of the options and then decides he would like to walk.
Other topics covered include plastic toys, sea pollution, wasting electricity or water, and recycling. The book also looks at the importance of bugs and insects and how planting flowers and trees can help the environment.
The flaps add an extra layer of interest for small children and there's a fun memory game at the end to see if they have been paying attention!
We love Louise Forshaw's super cute illustrations. There is lots of lovely detail to explore and a diverse mix of children and families are featured.
Buy it now: https://amzn.to/2Q2gnMS
Disclosure: The publisher provided us with a copy of this book in exchange for an honest review.